It's international Take Your Dog to Work Day on 25th June! Hooray for perky pooches visiting the workplace across New Zealand. Work has never been this woofing fun, right…
And our furry friends couldn't agree more, because their favourite thing is staying close to their human.
Alas, not all workplaces can allow our pups to come along. If yours doesn't, get your pup a treat instead. Check out these ethical Christmas gifts for pets that are great any time of the year.
We're also aware that since the pandemic hit there's been a global shift to more people working from home. And it's been beneficial – read about how pet love helps us navigate COVID. For all the WFH peeps with a pup, every day is bring your dog to work day.
Now, in recognition of the official international Take Your Dog to Work Day, let's celebrate the benefits of having a furkid join us in work as in play…
Why you should bring your dog to work
Just imagine meetings, coffee, laptops, notes….and your loyal Labrador at your feet. Could things get any better? Turns out they can. Not only do pet owners think it's rewarding to bring your pet to work, but scientists do too.
Here's why…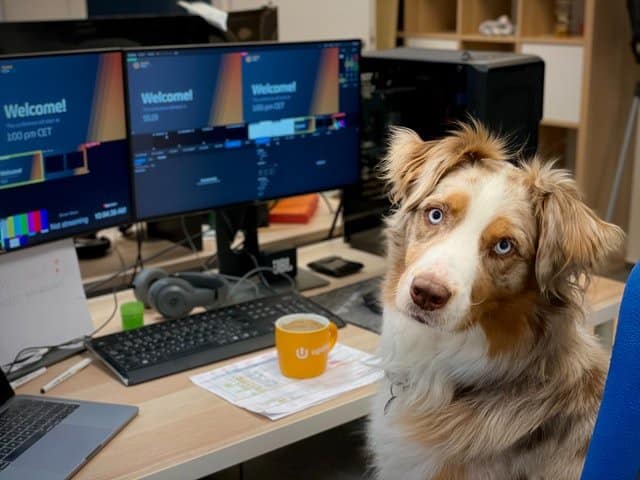 How dogs in the workplace can be positive
Turns out bringing your pup to work can be not just good for you but co-workers too. Even those who don't own pets.
From higher morale to lower stress and the whole gambit between, we've compiled these science-backed benefits of Bring Your Dog To Work Day:

In principle, bringing your dog to work sounds incredible, so how can you make it feasible? Find out…
Check out this video of a cute Corgi on his first day at the office:
Guidelines for bringing dogs to work
So, you're loving the idea of bringing dogs to the office. You're just not sure how to get started. With a few of the right setups in place everyone and their dog can love coming to work.
We'll show you how:
Have a dedicated closed off "no-dogs allowed" zone. This is important for everyone with pet allergies and anyone who's not a dog person.
Only allow well socialised and trained dogs at the office. Read up on finding a puppy school in New Zealand.
Set up controls to ensure only healthy, vaccinated dogs come to work. Read about routine pet care for your puppy.
Make sure dogs always have clear access to an outdoor toileting area.
Implement guidelines or rules for the pet owners to follow. The same is done for kid-friendly offices – having these parameters in place beforehand helps everyone feel comfortable with the situation. Get the whole company involved in making these rules.
Transition into being a dog-friendly office gradually, taking staff feedback as you go. For the situation to be a success, you want everyone to be as satisfied with their 'new workspace' as possible. Try starting with with one day a week/month. Then refine your setup and build from there.

And be sure to get majority buy in first.
Need some more know-how before bringing doggo along? Read our 'Tips for Taking Your Dog to Work' article.
Dog insurance for your work buddy
A 'dogs at work policy' would be great. But the best one you can give your dog is dog insurance. And what's good for your dog is good for you too. Pet insurance contributes to crucial pet health costs, like vet visits, prescription medicine and more. So you can worry about pup and not your pocket.
Bring Your Dog to Work Day – over to you
We'd love to see your dog at work with you and hear your story, so tell us in the comments below and share a cute snap of your dog helping you at the office on our Facebook page.