HUHA stands for Helping You Help Animals and is New Zealand's leading no-kill animal shelter. No-kill means HUHA strives for the best possible outcome for every animal it takes in while ensuring the safety and a quality of life for both pets and people.
For multitudes of unwanted, abandoned, abused and neglected animals HUHA offers a second chance. Which is why we're proud to be a partner.
When you visit a HUHA shelter, it's evident the animals feel respected, wanted and loved. HUHA works hard to help every animal heal so they can eventually be rehomed as happy and healthy pets.
And it's no wonder because behind HUHA is an animal whisperer with many accolades, including two New Zealander of the Year Local Hero awards. This is the inspiring story of HUHA and the woman behind it, Carolyn Press-McKenzie.
HUHA founder and vet nurse Carolyn Press-McKenzie
35 years ago Carolyn trained as a vet nurse. During this time she witnessed many animals being surrendered to be euthanised because they were sick and their owners couldn't afford treatment or because they were unwanted.
Deciding she couldn't stand by quietly and watch them be put down, one by one she found them new homes. (Read our article about putting a pet to sleep where we ask Carolyn to explain under what circumstances euthanasia is humane.)
Carolyn completed her certificate in animal science and technology at Wellington Polytech in 1988 then in 1995 became senior surgical vet nurse at Central Wellington Vet Clinic. In this time, she worked around the clock on countless nights, performing major operations to keep animals alive when there was no one to foot their bills.
Animal expert for TV and films
Some of the rescues stayed with Carolyn. She invested her savings in two hectares of wild land for her fur babies to play and roam on.
For many of us our focus is on providing a loving home for cats and dogs, but for Carolyn it's always any animal in need. Her menagerie was home to pigs, monkeys, magpies, rats, chooks and of course, dogs and cats. And they got on just fine. Some of them also became TV and film stars…
Carolyn's penchant for working with animals led to training them too. Films and TV shows they appeared in include:
King Kong
Lord of the Rings
BBC's The Lost World
The Tribe

This world had a big impact on Carolyn's story. Films can take years to make, and the trained animals tend to grow up faster than their role requires. While some she worked with were her rescues, many new animals were found for specific roles that they outgrew before filming wrapped.
For example, a film needing a baby pig ended up using several. The piglets simply grew so fast they would quickly become too big to represent the character. And as Carolyn learned from the senior trainer, once no longer needed these pigs were sent back to their farm to be butchered.
As you can imagine, after spending time connecting with and training each piglet, waving goodbye wasn't Carolyn's style. So, they all came home with her.
In addition to rehabilitating and training animals for on screen, Carolyn also worked as the animal expert on the Good Morning TV show. Even today the staunch vegan often appears in media interviews to discuss animal health and welfare.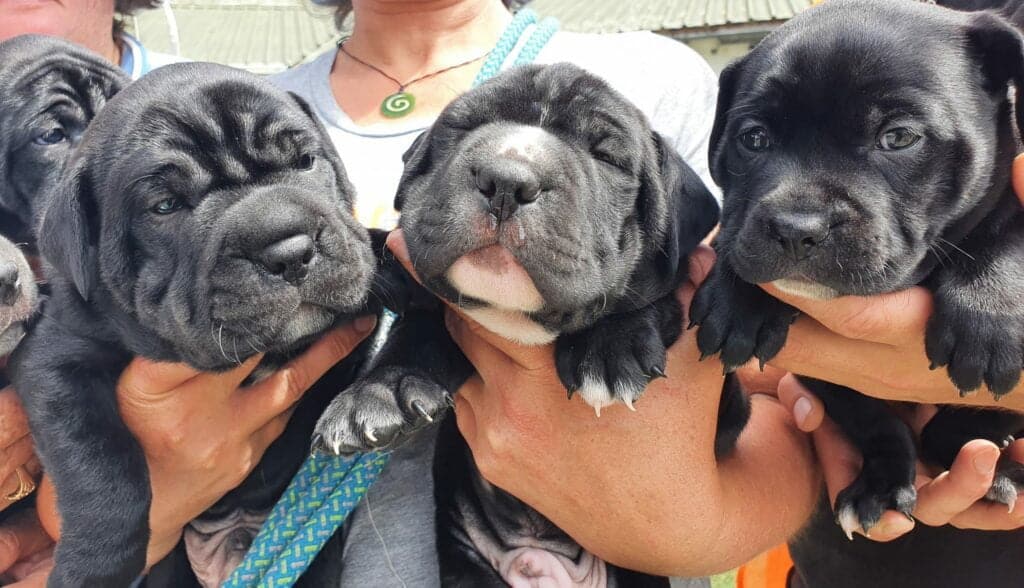 The birth of HUHA
She'd been rescuing animals since 2000, but it was only in 2008 that Carolyn's unofficial shelter was formally christened as HUHA.
HUHA has grown to be New Zealand's preeminent no-kill shelter and it continues to grow. It even has a vet clinic now.
The HUHA team of volunteers works hard on premises while also lobbying vocally for animal safety, including for the conservation of natural animal habitats. See here for one of the latest examples, with the Little Blue Penguin. The team also goes in to rescue wildlife and runaway pets during natural disasters such as fires and floods.
During the recent parvovirus outbreak, HUHA worked hard to diagnose and treat affected dogs. You can read our piece on Parvo symptoms, signs, prevention and treatment in our blog.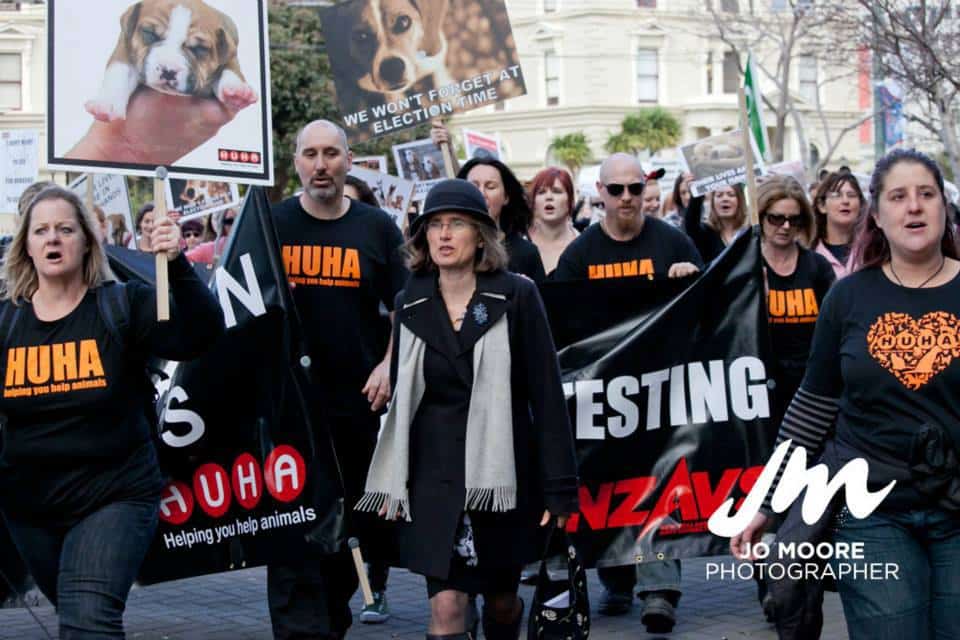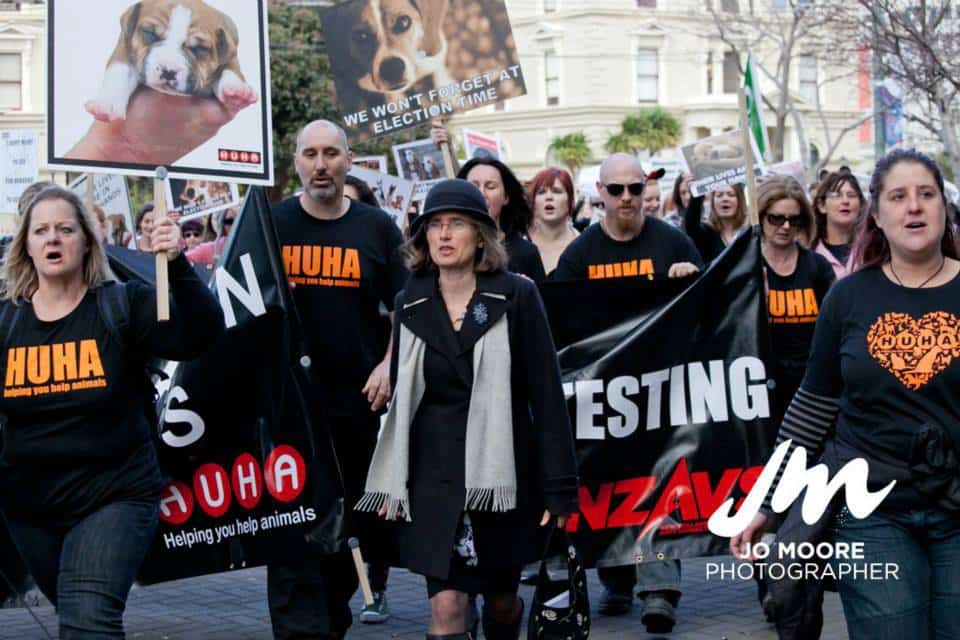 HUHA resources
HUHA relies on volunteers to help HUHA's shelters meet the needs of the animals. The two shelters and sanctuary spend tens of thousands of dollars each month on food, housing and medicine for its animals. And the spending continues into its rehoming program, where it carefully vets potential adoptive pet parents.
This money is raised through tireless fundraising efforts, several HUHA Op Shops and the HUHA ethical gift store. Want to get involved? Here are some important resources at HUHA should you want to enquire further:

If you're interested in giving a cat, dog, duck, horse, rabbit, cow or another animal their forever home there are plenty of wonderful adoptees to choose from.
The HUHA adoption process is rigorous to ensure the right fit between people and pets and includes home visits and interviews with each of the household members. It's comprehensive for good reason – HUHA deeply values the lives of pets and wants to make sure each one has the best chance of success. Just like we do. 😊
Animal magic
Caroline's life journey to date is detailed in her biographical book, Animal Magic. Here, she details the twists and turns of her experiences and shares how her path led to who she is now: CEO and founder of HUHA and one of New Zealand's most passionate animal advocates.
PD Insurance and HUHA
PD Insurance is proud to be a HUHA partner. We donate a portion of every pet insurance premium sold to the shelter and every puppy or kitten adopted from HUHA starts out with our pet insurance.
The cost of vet visits and medical treatments for pets can be a burden, so pet insurance acts as a counterweight, reducing out of pocket costs. Our pet insurance starts from as little as $1 a day.
The HUHA Story – over to you
Have you adopted a pet from HUHA? Or visited HUHA to see the way animals are rehabilitated through one-on-one sessions? Or maybe you've visited HUHA's ethical gift store and bought something wonderful for you, a friend or your pet… We'd love to hear all about it in the comments below.