Adoptable dog café The Barkery is Ōtautahi's first of its kind. The soon-to-open indoor/outdoor café is somewhere humans and dogs can connect and socialise. It's also a safe environment for rescue dogs to meet their forever parents and find a new home.
Jack Penniket and Ally Mullord are the owners and together they've spent more than a year crowdfunding the concept.
PD spent time catching up with Jack to find out what we can expect once The Barkery opens.
The Barkery dog cafe is…
"The Barkery aims to revolutionise the dog park and doggy dining experience in a way that supports and profiles the rescue dogs in need of a fur-ever home. It's best described as a dog community hub that supports the rescue community. Or an '*Adoptable* Dog Cafe'.
Of course, you and pooch can get a snack/coffee/drink and enjoy lots of activities with the dogs, including a hireable off-leash park and enrichment areas."
Working with the dog rescue community…
"We donate a percentage of all profits to our rescue partners. They can showcase adoptable dogs in person at the café, through our signage boards and our digital channels. Any exposure for adoptable dogs is good exposure, in a safe and controlled environment of course.
The Barkery dog cafe is a co-working space for the dog rescue community. We want to support all the dogs in finding their fur-ever homes and we provide a middle ground to help do that. We redirect the love and affection we have for our own beloved pooches to the shelters and rescue dogs who need that loving and attention."
PD Insurance note: if you've recently adopted a dog, here's our dog adoption checklist for new pup parents. You might also want to read 7 steps to being the purrfect pet parent in 2021.
The Barkery lightbulb moment was…
"The idea stemmed from an absolute adoration, respect and love for dogs and an unrelenting desire to find homes for the dogs who need them!
We see a bit of friction at standard hospitality venues that label themselves as 'dog friendly'. And we thought, how can we create a truly dog centric experience.
We thought about doing this in a way that supported rescue dogs and the dog lovers alike! We had been stewing on the idea for years, but once we saw CATNAP launch successfully in Christchurch (adoptable cat cafe), we knew we had to get it out there. Similar models work exceptionally well in many countries."
Jack Penniket and Ally Mullord – the people behind the concept
"Ally is the sharp, wise sheepdog, and I (Jack) am the young pup questioning everything and nipping at the heels.
Ally is a dog lover and somebody incredibly passionate about human experiences and social enterprise. She is a business analyst and one of the hardest workers I have ever met.
I'm a dog enthusiast and very social, outgoing – a big thinker! I was born in Australia but was desperate to move to New Zealand where I have Kiwi family.
My university background was a good mix and journey that went from Veterinary Science to Law and ultimately Commerce. Once I'd finished university, I moved here to pursue a career in the media.
Instead, I spent over five years volunteering in dog rescue. I've worked with SPCA, Dogwatch Sanctuary Trust, and Christchurch Bullbreed rescue. The culmination of this was the idea for the Barkery."
On crowd-funding The Barkery dog cafe…
"Ally and I both have digital marketing experience. We spent a lot of time deciding how to launch the idea. What we wanted was to create a compelling brand before announcing the concept. Once we launched, we were so lucky to receive an incredible reception and interest from media in our first week.
We hired videographers, posted as often as we could, and engaged the media with exciting experiences whenever possible. In addition, we spent a lot of time doing interviews on radio, tv, newspapers and on social daily.
We ran pup-up events with local Christchurch venues like Sundog Diner, Two Thumb Brewery, and Green Bear Coffee. These gave us a chance to demonstrate our plans. For example, that dogs and people can be social and safe, and it can work within your typical hospitality establishment.
We're currently looking for supporters in the construction and materials industry to help us bring this vision to life. If your readers can help and would like to be a part of this revolutionary concept then give us a woof!"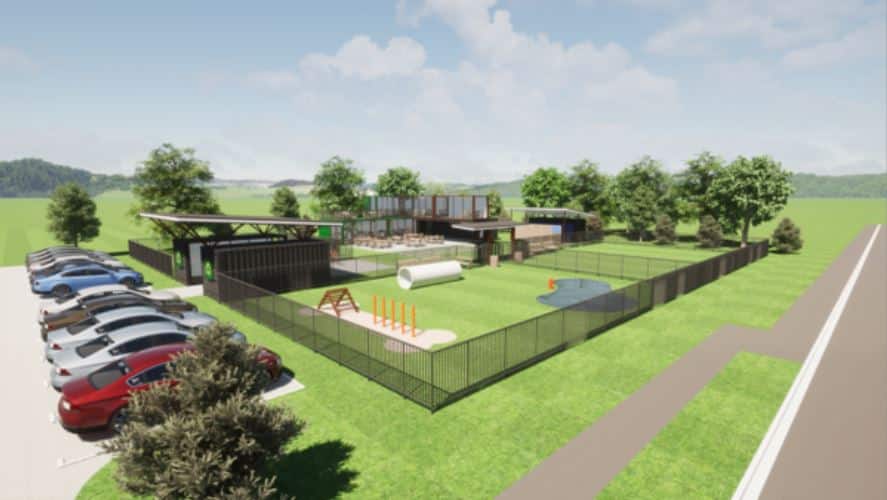 You've reached your crowdfunding target and…
"It has been very successful, and we certainly hit our target for the crowdfunding campaign! Currently we're busy working through final stages of new partnerships and sponsors.
We're about to submit our council applications for both building and resource consent. This is particularly important given that we're utilising red zone land. Ensuring the build is 'temporary and transitional' allows us to utilise red zone space.
'Temporary and transitional' structures are typically container orientated constructions that when needed – can be removed without impacting the land/grounds they sat on."

Advocating for adopting rescue dogs
"We exist to advocate, encourage, and support rescue dogs and adoption. Our staff will be on hand to answer any questions around the adoption process, and we will be showcasing adoptable dogs in person (where possible) – as well as profiling them digitally!
Our shelter partners are always looking at fundraising ideas and initiatives. Therefore, we donate a portion of all proceeds to them. As a result, they can put more time and resources into finding dogs their furever home.
The purpose of The Barkery is to inspire, educate, and motivate you to look into adopting a rescue dog as a first choice. However, we will never put someone down or alienate a dog lover for having a dog from a breeder or having a purebred dog.
We just want to advocate and educate those around the benefits and reasons why rescue dogs truly deserve your love, and many breeders do not!"
PD Insurance note: find out more about avoiding puppy mills in New Zealand and finding a reputable breeder.
Your own dog is…
"My own dog Albus is part bearded collie part border collie. He came from an accidental litter of puppies on a farm that needed to be rehomed. Albus is my best mate and in many ways, he rescued me. The relationship I have with him and seeing him flourish has inspired what The Barkery aims to achieve.
I was exposed to a very anxious dog as a young lad. In addition, being part of the process of rehoming dogs for the last five years has motivated me. I want to devote as much of my energy as possible into supporting those dogs less fortunate. The ones who aren't seen as perfect but deserve love. Or those that have come from a not so nice past.
I have found so much unconditional love and support from the dogs I've met in my life. And I feel obliged to give it back to all the doggos."
About the human-dog bond
"The human-canine relationship is ever-evolving, and I think anyone who has spent time with a dog recognises the beautiful lessons we can lean. Whether it's to focus on the little things, to stop and smell the roses then pee on everything, or unconditional love.
There is something so simple about a dog's life that is beautiful and grounding for our complicated human minds. There is always time to play, always be enthusiastic, greet every guest, try new things, be loyal, live in the moment, show compassion etc.
Dogs motivate us to spend time outdoors, to exercise and they can also be a catalyst to socialisation! One of my favourite things about The Barkery being built around a love for dogs is how social our attendees and audience is. Dogs are the ultimate icebreaker.
Emotional support is not something to be overlooked, and there are many amazing benefits we get from working relationships with dogs like our biosecurity, seeing eye, police, and search and rescue dogs demonstrate!"
Your thoughts on pet insurance
"It's absolutely worth getting dog insurance; like any insurance, always read the fine print. The reality of a dog's life is that they can find themselves in situations where they may get injured. They're a little more reckless physically than us humans – most of us, anyway.
It's not worth being forced or cornered into heart-breaking decisions. If your dog is in pain, or you're facing serious time at the vets, you want to be able to confidently and quickly get the treatment, not worry about finance.
Setting up a bank account dedicated to emergency for your dog and making regular contributions can be a great option too."
The Barkery dog café – over to you
As Jack says, "The evolution of mankind and dogs is amazing and we're still learning from our canine counterparts!" We couldn't agree more. If you're a pup parent, we'd love to hear from you. How has your canine BFF made your life better – tell us in the comments and post a picture on our Facebook page too.