Happy Easter! Let's celebrate with hot-cross buns, friends, family, and pets. The only thing as fun as making happy memories in the first place is looking back at them in picture-purr-fect snapshots down the line. And of course, nothing's cuter than our very own pawsome pets. So, without further ado, here are six pet photography tips for your Easter albums.
1. Set the scene for pet photography
Playtime for your dogs and cats is the best way to make sure pets are happy and calm before the shoot. Before you start snapping, play a game of cat catches the string, or take pup for a walk (just remember to bring along your DIY dog walking kit too).
If you're feeling brave, you may even get some good snaps in during playtime, although we're thinking mostly afterwards.
Once your pup or puss has wound down and used up all their excess energy, they'll be happy and calm. Playing and exercising beforehand is the perfect way to bring out that gorgeous glow and set them at ease.
Head to your pet's favourite spots in and around the house to do your photoshoot there. Happy pets almost look like they're smiling, and hey, maybe they are!
Tip: Aim for a pampered and adored look-and-feel as opposed to a harried pup-arazzi approach. By playing and exercising first, you're making sure your furry friend is genuinely happy 😊. You can even use treats to keep your pet attentive and in place.
2. Aim for the golden hour
The best light for pet photography is au naturel. Of course, you can use a gentle lamp for ambient light, but never shine it toward your pet. Pets have better eyesight than humans and a glaring light can cause them pain. And don't use a flash. Not only will it most likely startle them, but it will also potentially hurt their retina.
Besides, you're more likely to get that reflective red-eye look from a flash, which is more Halloween than Easter.
Aim for continuous lighting like a soft lamp, sunlight pouring through a window, or even simply head outdoors and shoot there. The best time of day for pet photography is the magical golden hour just after sunrise and before sunset.
Tip: Avoid shooting at midday when the sun is directly overhead and at its harshest. Harsh direct light can result in oversaturation and fades colours.
3. Get your camera settings right
Experts recommend using a wide aperture, single point focus and fast shutter speed. This helps freeze the movement and gets those sharp details in focus. If you're using your phone, switch off the sound to minimise distractions.
Keep the angle of your camera at your pet's eye level to really tap into their emotions.
Take lots of pics and choose your favourite ones after. The more the merrier should be your mantra for this reason, plus you can always save your runners up in the cloud.
Tip: Ask a friend or family member to be your photoshoot assistant and have some pet treats at hand to reward your pet. This way you can focus on taking the photos and getting your camera settings right.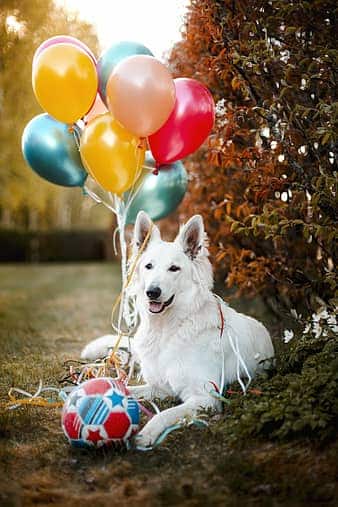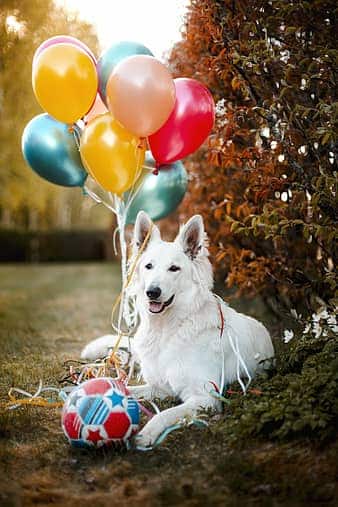 4. Use props and décor
Let's bring on the feeling of Easter with some toys and treats. BTW, if you're wondering is chocolate toxic to dogs and cats then the answer is yes! Sorry, but no Easter eggs for pets; safe celebrations are our motto.
Here are some safe ideas for props that will help you achieve the best no-fuss pet photography.
Squeaker toy – the ultimate go-to in dog photography. Your trusted pet photography assistant can get your pet into the pose while you use a squeaker toy to draw their attention to the lens. Know that dogs prefer sounds, but cats are more attracted to movement. A little wave or twirl of the hand should grab their attention.
Hanging decorations – use streamers, fairy lights, coloured hollow eggs and toy bunnies to create the perfect backdrop. Setup your photoshoot at your pet's favourite hangout spot so they can come to you.
Decorations – other decorations that work well are balloons and bouquets. If you've a floral backdrop in your garden just use that! Otherwise, set them up indoors as the backdrop, place a tasty treat where you'd like your trusty friend to be positioned and call them over.  
Dress-up – a colourful handkerchief makes a great portrait necktie. But be sure to remove it as soon as you stop taking photos. Read our article on dress your pet up day to find out why dress up isn't always a good idea for pets.
Floating and falling decorations – use confetti and bubbles to create the ultimate ambience. Bubbles are great if you are shooting outdoors. Confetti in festive colours or snow white will create a beautiful feeling of gentle snowflakes. You'll need to time your confetti with your squeaker toy or wave of the hand.
Gift wrapped box – if you have a puppy or kitten, make them an open gift-wrapped box bed to sit in. This makes for some of the cutest pet photography.
Tip: Your biggest prop will be patience. Don't rush or force your pet into a photoshoot. If your plan isn't working, switch to a more candid approach and edit in some décor (many online tools make this simpler than you might think). After all your pet's happiness is more important than pet photography.
Also, make sure your pet doesn't eat any of the décor. Treats only.
5. Take photos of pets with people
For group shots and pics of you and your pet together, here are some great activities to get you into pose:
Hug your pet – nothing ever made for a better photo than cuddly love. Ask your photography assistant aka friend/family to take your photos then snuggle away.
Talk to your pet and ask them questions – this way there will be a moment after the question where you will be making eye contact without talking at the same time. 
Tricks – if your pet has skills then it's time for you to try them out. Tricks like sit, jump or high-five make for great snapshots if the whole family does them together. Of course, you'll all need to try to synchronise to create the right effect. You'll get a workout and even the flop-out photos will probably send you all into stitches of laughter.
Shoes – an all-time winner is you wearing cute slippers and taking a snapshot of your pet sitting between your feet. Make sure the floor is clear of clutter. It's just your pet and your shoes.

Tip: Everyone makes better photos when they're happier, pets and people alike. Do a group hug, or a little dance before you start snapping, to bring on the festive cheer.
6. Treat your pet
Three, two, one and action! Pets know how loved they are, and it certainly shines through in the lens. If you know you're doing the best you can to ensure Bella or Charlie is healthy and protected, you'll feel happier too.
Treat your pet to pet insurance this Easter. PD Insurance offers cat insurance plans and dog insurance plans for as little as $1 a day.
Tip: Add the wellness benefits package to the Classic or Deluxe Plans to include cover for vaccinations, de-sexing, microchipping and more.
Pet photography – over to you
We'd love to see your pet photography for Easter and hear any great tips you used to get your feline and pooch portraits. The relationship between pet and person is unique in each household and you may have some tricks up your sleeve we've never even heard of!
Post your snaps on our Facebook page and share your tips in the comments below.