New Zealanders love their pets – a 2016 NZ Companion Animal report found around 64% of our homes have at least one. We love that stat because we too love all sorts of fur babies, crawly critters and scaly sweethearts. No doubt many of these parents are renting with pets, too.
So, what we don't love is that according to this report only 11% of rental properties listed in Auckland allow pets. That's a lot of pet parents having to make tough choices with renting a home.
But rather than get upset, we decided to do a little digging into what it's like renting with pets. And how pet insurance can help.
Why is it so tough to have a pet in a rental?
It's easy to think it's just mean that landlords simply don't want to consider animals living in their properties.
And while that may be true for a few, the reality is that until August 2019 any accidental damage costs were the responsibility of the landlord. Hence the hesitation for many.
Let's take a quick look.
Boring but relevant legal history stuff
In 2016, after hearing the Holler & Rouse v Osaki case, the court determined all accidental damage costs were the responsibility of the landlord. Although the case wasn't about pets, the ruling included pet damage to a rental property.
That remained the case until 27 August 2019, when an amendment was made to the Residential Tenancies Act and new legislation was passed. Tenants then became liable for 'careless damage' to the property they're renting.
While we don't have any recent stats showing an upswing in rentals allowing pets, the Auckland Property Investors' Association surveyed their members and found a staggering 78% were happy to consider tenants with pets.
This is good news, right? So, while this might mean an increase in fur babies being accepted in tenancy applications – what does it mean for you as a tenant/pet parent?
What happens if my pet damages my rental?
If your pet wreaks havoc on your rental, you obviously need to make sure they're okay first. If they're injured, they'll need your care and understanding rather than a slap on the paw.
Steps for renting with pets that cause damage
Your pet doesn't understand the consequences of their actions so it's important you stay calm and speak in a soothing voice. Worry about trying to train them later, to not do what they've just done. Instead, check them over for any injuries.
If they are injured, take them to the vet if necessary. Be sure to secure your property first – you don't need more bad news for your landlord!
Once you know your bub is in good hands, you can come home and survey the damage properly.
Contact your landlord or real estate agent as soon as possible to let them know what's happened. They'll likely want photos. Discussions will need to take place, repairs will need to be made and bills must be paid.
Then it's time to make a claim on your insurance so you don't have to cop the whole bill.
Hopefully, you've been savvy enough to take out a PD Pet Insurance policy so we can look after you. We have three different dog insurance and cat insurance plans available to suit all kinds of pet parents – and they all include third party liability cover for damage to others' properties.
Read on…
Pet cover damage to your rental property
Unlike many pet insurers who will only cover sickness or injury, we understand that pet damage is sometimes unavoidable. That's why our pet insurance policies provide pet damage insurance for renters. It's cover for property not owned by you, such as your rental property.
Specifically, we provide you with financial cover (up to a limit) if your pet causes loss of or damage to someone else's property, or death or bodily injury to any person. Tenants, rejoice!
Anyone who's come home to a sick, injured or lonely pet who's taken out their stress or pain on their surroundings, will understand just how costly this can be.
Want to know more? Check out our PDS for further detail on this.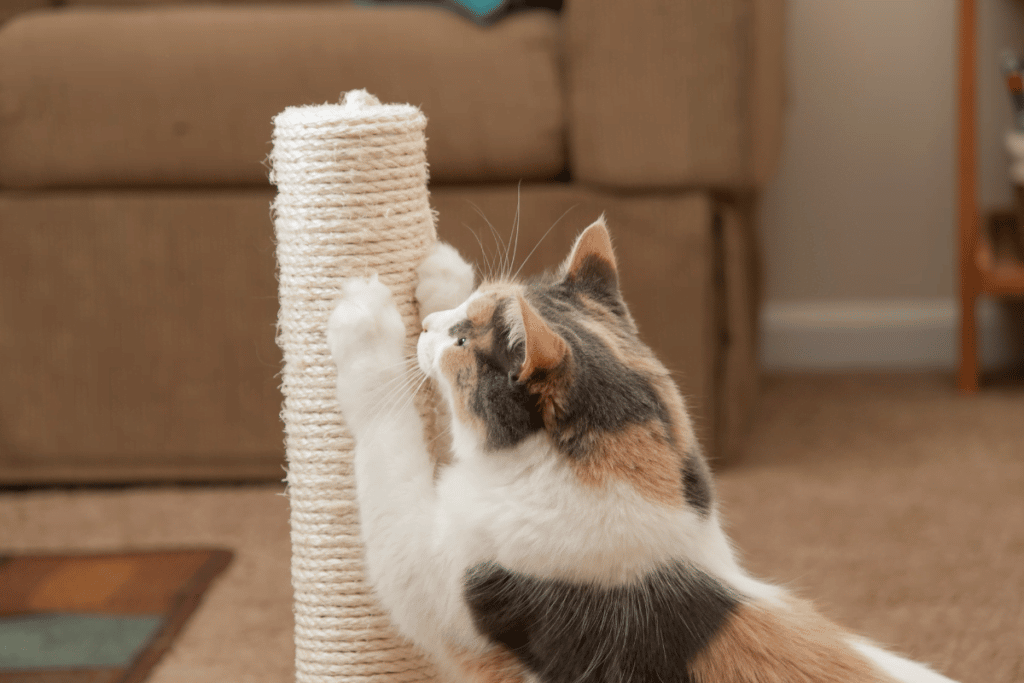 How to protect my rental property
When looking for a new rental, you'd be a wise owl to think not only of your own needs but the needs of your pets as well.
How many pets and what kind
Be honest and upfront with your landlord about the type of pets you have and the number you want to keep at the property. Be sure to inform them in writing as well as verbally, so if you need to you can point back to this.
And beware – If you love cats as much as we do at PD HQ, you'll understand it's a slippery slope from cat lover to crazy cat lady.
You know what we mean?
<insert this gif: https://giphy.com/gifs/Vi1YAP4jJen4I>
Remember: if you add any more fur (or other) babies to your menagerie you need to inform your landlord. It's always best to be completely transparent.
Indoor or outdoor
Whether your pets will be kept indoor, outdoor or a combination of both needs to be negotiated with your landlord. And again,get it in writing.
By that we mean written into your tenancy agreement. Believe us, if it ends up before the Tenancy Tribunal, they want words not memory.
Is the space made for pets?
A big dog or an energetic puppy needs room to run. After all, bored dogs without the means to burn off any energy can become destructive. If it's a 5 kilometre uphill trek to and from the dog park or a long drive, are you flirting with the truth here?
We all know cats love to scratch and climb. You've seen the videos online. The one where a cat has become tangled in the blinds or used the expensive drapes to claw his way down from the wardrobe.
And they're territorial. If your family sitch changes (e.g. you welcome a new bub), even a neutered feline might spray to mark her territory outside (and inside). Ew.
Let's not forget the fur. If the rental is fully carpeted and you have a fluff ball of a dog who sheds like it's snowing, is this the best choice?
If you're keen for a pet but now sure which one to choose, we share the best pets for apartments, best pets for kids and the lowest maintenance pets.
Before renting with pets: Consider consequences
Making great decisions beforethere's a problem is always better than trying to fix it. It's no use trying to tether the horse once it's bolted. Making good choices now will pay off in the end. Emotionally and financially.
Investing in pet insurance is a clever way to give yourself peace of mind, but it's not just that. At PD Insurance, we'll protect your pet, your pocket and your rental property.
Plus, unlike other insurers, we offer cover for pet care costs when they're well. Things like vaccinations, desexing, microchipping, boarding fees and more.
Why not get a quick quote? It'll only take a few minutes.
Over to you – renting with pets
Did you know you could be covered for pet damage to your rental property? Knowing this, how does that make you feel about renting with pets? Let us know in the comments below.